Tweet
This publication is no longer available
2014 Contractors License Law & Reference Book Now Available
New edition features comprehensive construction laws and regulations
SACRAMENTO — This year's edition of the Contractors State License Board (CSLB) California Contractors License Law & Reference Book is now available for purchase or for free viewing Online. The updated publication, totaling just over 1,000 pages, provides easy reference to new and amended construction laws that took effect January 1, 2014.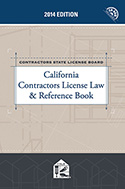 The License Law & Reference Book's convenient, all-in-one format continues to provide CSLB's history and mission, and specialized sections about becoming a licensed contractor; home improvement; business management; construction standards and safety regulations; California's Business and Professions Code and other construction-related state codes; and complete California Contractors License Law rules and regulations.
"This book is designed as a quick-reference tool to help our state's 300,000 licensees keep up with continual changes in state contracting law," said CSLB Registrar Steve Sands. "It's also a great resource for anyone trying to get their state contractor license."
The 2014 law book can only be purchased from the publisher, LexisNexis, and is not available at any CSLB office. This year's updated law book includes a convenient CD for Windows, and Mac computers. The book costs $27 plus tax, and $10.44 for shipping and handling. Major credit cards are accepted.
Order Online from LexisNexis
Order by Phone: (800) 533-1637
Order by Fax: (518) 462-3788
If ordering from a specialty book store, the ISBN number is 978-0-7698-9435-5.
Archives: 2019 | 2018 | 2017 | 2016 | 2015 | 2014 | 2013 | 2012 | 2011 and Earlier
Sign Up For Industry Bulletin Email Alerts
Please type in your email below and click submit.