Tweet
CSLB Registrar of Contractors Announces Upcoming Retirement
Steve Sands to step down at year's end after leading Board since 2001
SACRAMENTO — Steve Sands, who's been at the helm of the Contractors State License Board (CSLB)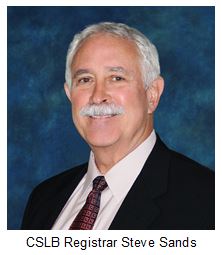 since January 1, 2001, has announced his plan to retire at the end of the year. Mr. Sands made the announcement at CSLB's quarterly Board meeting, held yesterday, April 24, in San Diego.
As Registrar of Contractors, Mr. Sands serves as the CSLB executive officer and oversees a $60 million budget and more than 400 employees at CSLB headquarters in Sacramento and 10 other offices around the state.
Under Mr. Sands' leadership, CSLB has been recognized as a leader in proactive enforcement programs and partnerships with state and local agencies that help curb the underground economy. CSLB's Licensing, Examination, Enforcement, and Public Affairs programs have been used as models for the National Association of State Contractors Licensing Agencies (NASCLA) and other agencies within the Department of Consumer Affairs.
"Steve has done a remarkable job, expertly guiding the Board through tumultuous budget times, including deep staff cuts," said Board Chair Joan Hancock. "He's always made consumer protection his top priority, while also working to protect the integrity of the state's construction industry. He's going to leave some very big shoes to fill."
Prior to coming to CSLB, Mr. Sands was Executive Officer of the California Architects Board from 1986-2000. From 1978-1986, he worked in the Department of Consumer Affairs Executive and Legislative Offices.
The process of selecting the next Registrar of Contractors will begin immediately.
Archives: 2019 | 2018 | 2017 | 2016 | 2015 | 2014 | 2013 | 2012 | 2011 and Earlier
Sign Up For Industry Bulletin Email Alerts
Please type in your email below and click submit.